RENEW Energy Maintenance, LLC ("RENEW") and DEIF A/S have signed an Authorised System Integrator (ASI) agreement to supply control & pitch retrofit solutions for the North American market.
This agreement will expand RENEW and DEIF A/S efforts to deliver life extension and performance improvement solutions continuing to help owners maximize their asset performance. The agreement covers all wind energy platforms that Deif serves and grants RENEW exclusivity to the Suzlon Energy related DEIF products in North America.
Control and Pitch Retrofit solutions are a cost-effective and sustainable way of improving AEP and offer fast ROI for wind farm owners and operators. With the advanced technology in modern wind turbines, such projects require extensive application know how, quality solutions, and high flexibility. By joining forces in the wind turbine retrofit business, RENEW and DEIF bring a strong combined offering to the market.
Significant potential
Nick Siddens, Director of Operations at RENEW, remarks, "The products and engineering capabilities DEIF brings to controller upgrades are unsurpassed. DEIF impressed us throughout the development of the Suzlon platform upgrades and we are very excited about this partnership. With multiple projects completed and more on the schedule, we see significant potential for controller upgrades and look forward to expanding in the North American market."
Best possible step forward
"Working with RENEW has been a success from the start,", says Jean S. Felber, Global Business Development Manager, Wind at DEIF A/S. "I see this agreement as the best possible step forward. Together, with RENEW, we will be able to provide end-to-end retrofit solutions, with optional spare part suppliers and OEM independent services. Wind turbine owners in North America will now be able to get first class service and life extension possibilities on their ageing assets. It will enable both companies to support our customers even better".
Exclusivity on Suzlon S64 & S88 Control & Pitch retrofits from DEIF
RENEW will continue exclusive North American distributorship of DEIF products for the Suzlon S64 & S88 platform. DEIF A/S and RENEW have collaborated on the development of the Suzlon control system upgrade and the combined strengths of our two organizations has resulted in the premier Suzlon control system life extension offerings on the market.

For further information, feel free to contact:
Nick Siddens
Director of Operations, RENEW Energy Maintenance, nicks@renewenergy.com
Jean S. Felber
Global Business Development Manager, Wind, DEIF A/S, jsf@deif.com
ABOUT RENEW
Founded in 2009 by wind energy industry veterans, and recently acquired by TAKKION, RENEW has become one of the nation's top independent service providers ("ISP). Known for providing the highest quality technical services support to the wind power industry, RENEW has grown rapidly, developing a national and international customer base of premier OEMs, developers, and asset owners over the past decade.
The company offers a wide variety of specializations, including Construction & Field Services, Operations & Maintenance, Asset Management, Gearbox Services, Infield/Up Tower Repairs, 24/7 Remote Monitoring, Specialty Field Services, Remanufacturing, Mobile Oil Change Services, Blade Services and Supply Chain Services. RENEW staff is experienced, fully trained and familiar with each major wind turbine manufacturer, past and present. For more information, go to renewenergy.com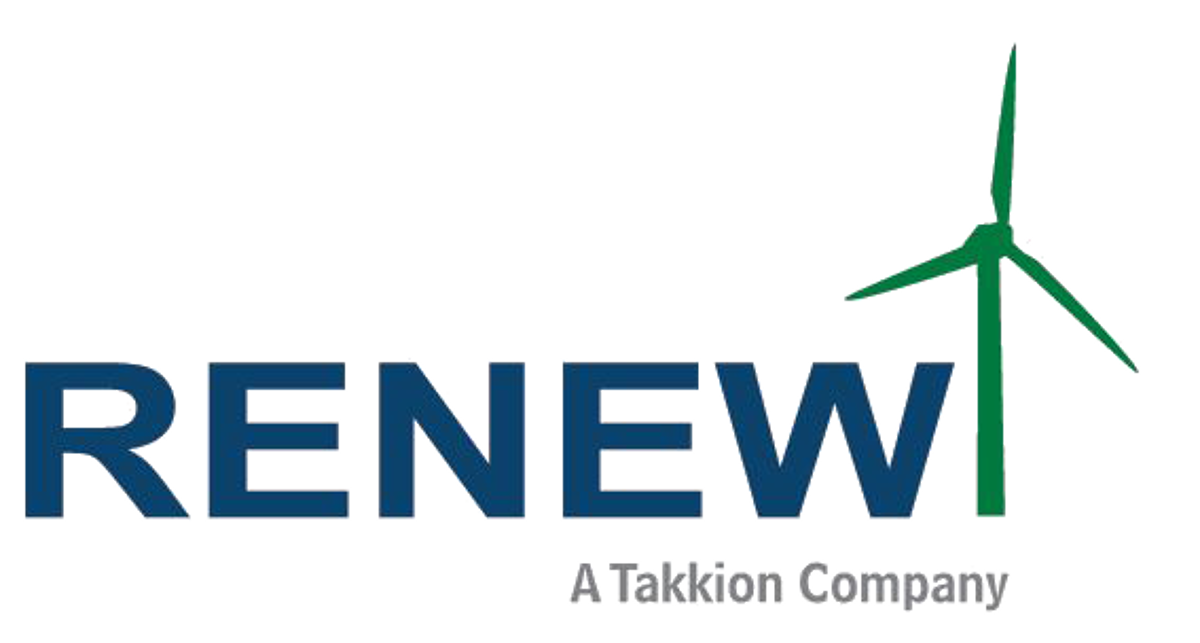 ABOUT TAKKION
TAKKION is enabling the Energy Transition. TAKKION is the largest pure-play provider of logistics, field support, and technical repair services to the Renewable Energy industry globally. With the industry's largest network of people and assets across North America, TAKKION is uniquely positioned to support our rapidly growing need for clean energy. We live by our values of Safety, Integrity, and Transparency to better serve our Customers and our Employees. To learn about how we are Moving Energy Forward, visit takkion.com